Have you ever heard about a place called "Candytopia?" in Atlanta. Many might confuse it with a destination but it is not! Candytopia in Atlanta is a kind of experience that you might have never thought of experiencing in your life. It is a new kind of integration that you can find in Atlanta. It will take you to a state of high energy level due to the intake of too much amount of sugar. The place will take you to a psychological and sensory trip and feel like coming out of a Willy Wonka dream, sucking on a lollipop and thinking about the experience you had just gone through!
After several consignments in Los Angeles and other places, this out of the world experience got introduced in Atlanta, making it it's the newest location. The land of candies and confectionery set up its base in Lenox Marketplace in February.
So, if you are one of those people who can go gaga over candies, they have got a reason to get excited! All you need to do is get a ticket to make an entry to the kingdom of dreams! You can get Candytopia coupons from any online stores or agents who sell them. There are also several ticket sites that sell Candytopia tickets. You just need to know the exact place and buy them.
How much does Candytopia cost?
But have you ever how much this fun can cost you? One ticket will cost $28 for adults and $20 for kids whose age is between 4-12. Children can get free entry if their age is 3 or below.  As mentioned earlier, you can purchase the tickets online.
So, if you are ready for some real fun, make a plan to visit Candytopia in Atlanta. It will transfer you to a metaphorical world full of illusions and frenzy. The moment you enter Candytopia, you can sense fun and madness. You will be greeted with a 360lb Candy Dragon at the front door and make your way to the gigantic candy peach made of peach candies in the gift shops. In short, candytopia is all about candies that will feed your Instagram wall. It is no less than a paradise for Instagram lovers. There are 7 different bright and colorful rooms, where you can experience all the candy floss moments. it will make you feel that you have stepped into a kung-size game of Candyland.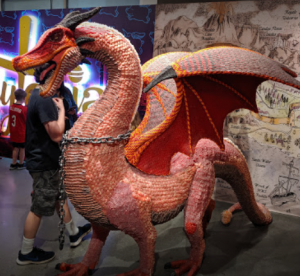 Here are 5 things we think you need to know before you plan to visit the wonderland Candytopia in Atlanta!
You need to download the App before reaching there
As you enter the magical land of Willy Wonka, you will be required to know the rules. The rules will be told to you and you also have to download the Candytopia app. You will receive a QR code once you download the app and you will be able to access all the photo ops through this application. So, it is better you download this app before you visit the place so that you do not miss out on any rules.
Make sure you have a place to keep your candy
Each room in Candytopia is an experience in itself. As you pass through them, you will get treated with many surprises. You will get treats more than you can hold in your pocket. Therefore, you need to make sure you carry a large bag that will fit all that you get in these rooms.
Get your camera ready or make sure there is plenty of space on your phone
Candytopia is a paradise for Instagram lovers. You will get plenty of opportunities and places that will create an impressive and colorful background. You just need to roll your camera and capture the moment. One will get confused with one mesmerizing photo op after the other.
Another thing you should get in your mind that all the rooms in candytopia are linear and one way. So, you cannot come out from where you have made an entry. So, make sure you have visited everything before moving forward.
There will be confetti all over your shoes
There will be one room in Candytopia that you can find quite quirky but it is the most fun one! You will get to see a lot of colorful tissue papers and confetti. Some of the confetti's will be blown off by the air hoses kept at the end of the room and the rest will stick on your shoes.
Inside Look at Candytopia Atlanta 2019! (Vlog) by Harper Hodge Channel
So, make no delay and book your Candytopia Atlanta tickets and get ready for an experience of a lifetime!